Social Impact Business
---
TAIKA store is taking part on an environmental activism movement and contributing a sum from every purchase equivalent of planting 5 trees to a reforestation organization called Eden Projects. As an addition TAIKA is dedicated to bring awareness around the topics of sustainability, transparency and body positivity in fashion.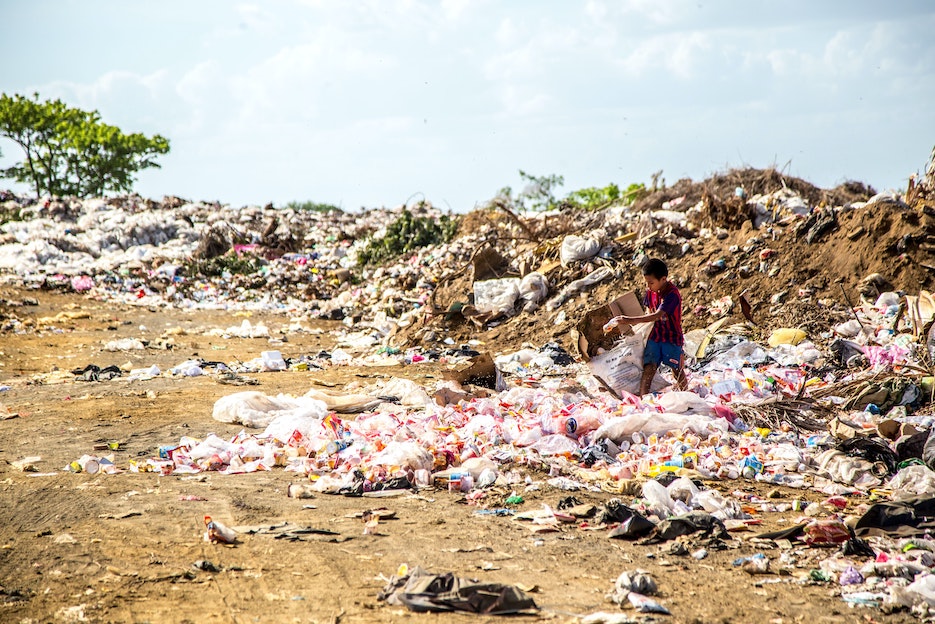 Measuring social impact
Measuring social impact is important because it concentrates on root causes, perceptions, attitudes and behaviors that are associated with the health and well-being of a population and environment. Social Impact Measurement is a process of understanding how much social change occur, and can be attributed to an organization's activities. The integrity of the process is usually established by an impact statement and a clear impact driven business strategy.
The negative impact of fashion industry in a nutshell
Negative consequences at each step of the fast fashion supply chain have created a global environmental justice dilemma. The 'overabundance' of fast fashion - readily available, inexpensively made clothing - has created an environmental and social justice crisis that will exist as long as we keep supporting these unethical businesses.
Fast fashion produces approximately 20% of global wastewater, contaminating rivers, oceans, drinking water and soil. 72% of clothes are made of synthetic materials derived from petrochemicals. These synthetic polymers can sit in landfills for 200 years. Besides environmental issues Fast Fashion is exploiting employers. They are commonly hugely underpaid, and are working in questionable and unsafe places.
There is only as much as consumers can do as they are depending on providers, in this case, fashion enterprises, that can change the course of the boat. In other words, the responsibility for making a change globally is in hands of businesses.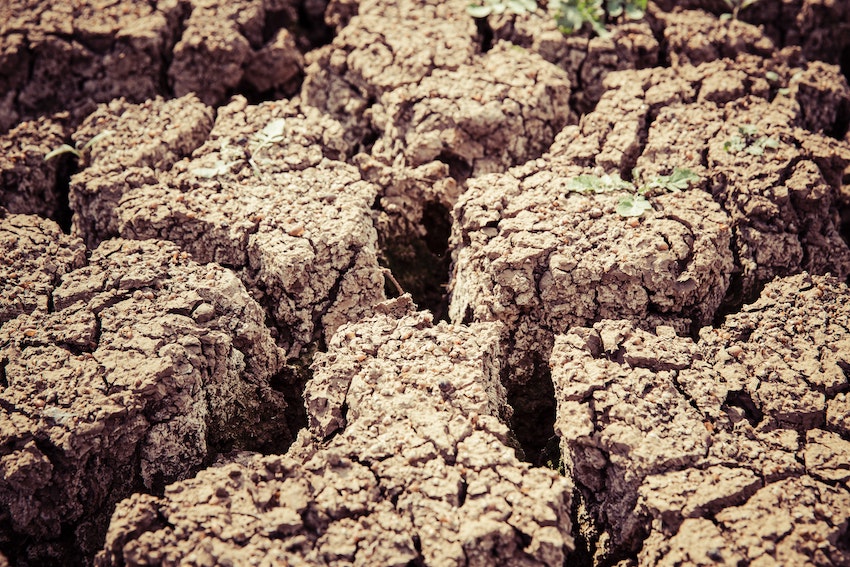 What does TAIKA do for Social Impact?
TAIKA is dedicated to balance out its environmental burden by contributing to a reforestation NGO called Eden Projects.
TAIKA is planting 5 trees for each sale
, and by that carrying out its corporate social responsibility. Eden Projects is operating in Madagascar, Haiti, Nepal, Indonesia, Mozambique, and Kenya. The project is hiring people from local communities to plant native trees to their communities. Employment with Eden Projects gives the villagers a decent income for thriving.
The trees provide a habitat for animals, purify water sources, restore ocean health, control flooding and erosion, and help to replenish the soil with nutrients needed for farming. Trees are basically fundamental for our existence. Due to reforestation projects and nature protection healthy forests begin to emerge as the reforestation effort goes on, and the negative effects of deforestation begin to disappear.
Every planted tree makes a difference.
Transparency in fashion
During the past few years consumers have gotten more aware of the burden of fashion industry. They are more often interested how and by whom their products are made. In the often impenetrable world of fashion, transparency is finally un upcoming trend due to campaigns such as Fashion Revolution who's tag line is widely spread 'Who made your clothes?'. Finally a progressive amount of clothing and footwear brands are lifting the veil on which factories make their products.
TAIKA is aiming to spread even more awareness around transparency within fashion industry, and to bring light onto blind spots. TAIKA is dedicated to be accordingly fully sincere of its own processes, and informing consumers rightfully about the materials it uses in its products.
Recycled cotton yarns are the main materials that TAIKA uses for manufacturing the macrame clothes and accessories. These yarns are produced from high quality fabric waste that have been manufactured from leftover or junk fabric fibres and pieces collected from various big fabric associations. TAIKA is also recycling its own waste creating innovative smaller products such as earrings and petite necklaces.
Body positivity
TAIKA is tackling another major issue in fashion - that is the idealization of an unhealthy body figures, photo manipulation, and therefore misleading advertisement that has crucial consequences in advocating negative attitudes around body image and therefore decreases self love. Together with the media fashion industry has made women to think that they need to diet. These hard diets can be harsh for the body, and lead to various eating disorders which contributes to the destruction on not only women's bodies but their self esteem too.
By promoting healthy body image of all shapes and sizes TAIKA is an objection to the vast majority of advertisement in fashion industry. TAIKA is promoting the acceptance of all bodies and therefore does not manipulate any photos to look unrealistic, but rather encourages the natural beauty of any human being.
Body positivity refers to the affirmation that all people deserve to have a positive body image, regardless of how society and popular culture view ideal shape, size, and appearance. TAIKA is dedicated to popularize healthier views through transparency in marketing fashion and bringing awareness on women empowerment in general.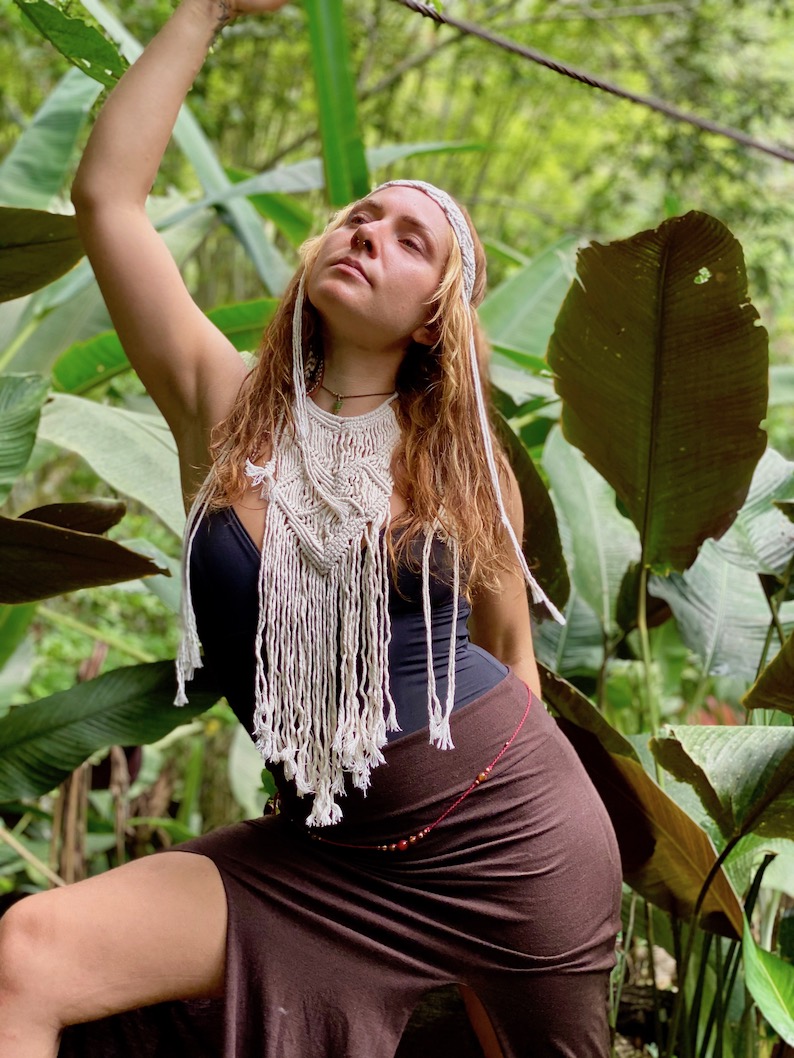 Macramé choker necklace - BAUNEI
Stylish and delicate macramé choker necklace for a boho summer style. This unique tribal style jewelry choker works as an interesting centrepiece or a trendy collar. It is made out of knots, and decorated with exquisite pattern in the center, and is one of a kind. It is made by hand from recycled delicate cotton cord that feels soft on the skin.When one thinks of a choker necklace one often thinks about the black satin type decorated with stones such as agate, lapis lazuli, amethyst, rose quartz, turquoise or labradorite. But this amazing choker falls into another category.There is multiple variations to play with this extraordinary macramé choker. For a sensual celebration wear on a bare skin (free the nipple!) or accompany your sassiest lingerie or beachwear. You can also include this craft as an addition to a casual look with a pair of jeans and a jersey shirt!Rock it with style! With this dauntless necklace you can recreate any bohemian style on point! Test the endless possibilities to create your charm! Flatters any figure. This unique piece is easily adjustable and multi function.To close the accessory just wrap a basic loop knot behind your neck from the ending of the finely decorated straps, and make sure to tighten the string on a necessary position and level. Every knot has been knotted with love and an intention using only sustainable and natural materials. This results a happy product, and happier deals!There is no need to wash your new wearable art piece but if you need to you can check out the step by step instructions of how to take care of your small macramé jewelry from here.You can buy more handmade wearable art and other woven products in different colours online from here or on etsy shop. Necklaces are a perfect gift idea for any occasion! You can find a diy tutorial on youtube for making your own macrame piece. But if you feel like it is too much of an effort; I am happy to help! ;) Reach out for personalized and flexible custom made beaded designs with a healing crystal or any gemstone of your choice (I love a feminine Moonstone and a Tiger eye) as a pendant, glass, pearl, brass, silver, bead or any other beads, ads, different colors or features that your soul might desire. You find me at
[email protected]
or by filling out a contact form on this site.Find similar items from the same brand here. MeasurementsWidth: 17 cmLength: 51 cmColorOff whiteMaterials100 % recycled cotton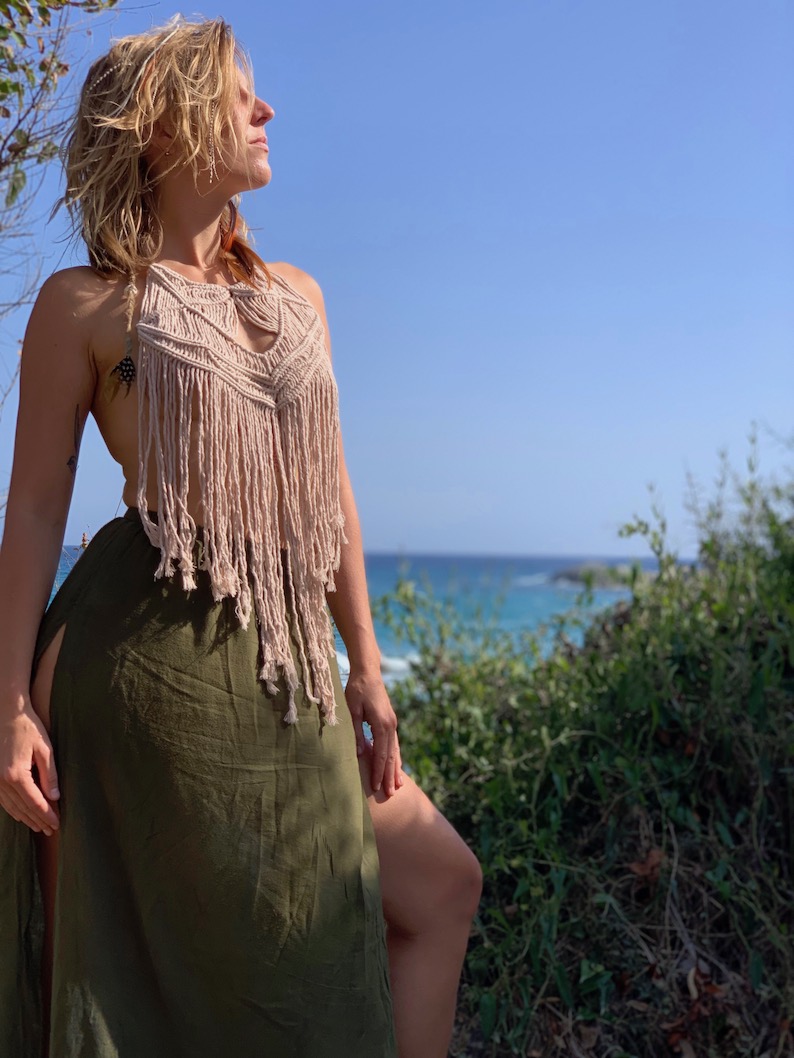 Boho macrame maxi necklace - CAGLIARI
Boho macrame maxi necklace is made from recycled cotton yarns and is handcrafted with love and intention, knot by knot. Boho style sophisticated macrame necklace is a perfect addition for elevating any outfit to a new level. Create a unique flower child look by combining this artistic piece with your favourite summer outfit or wear as an add on with any other bohemian festival wear.This boho necklace covers the whole chest area with a beautiful V-shaped pattern, and it has long tassels in the front to dance with. Tie the two strings behind your back on a knot or a bow. You can also was your macrame piece despite the delicate look and the semi precious stones used for finishing the straps. Read more here.MeasurementsWidth: 36 cmLength: 45 cmColourCreamMaterial100 % recycled cotton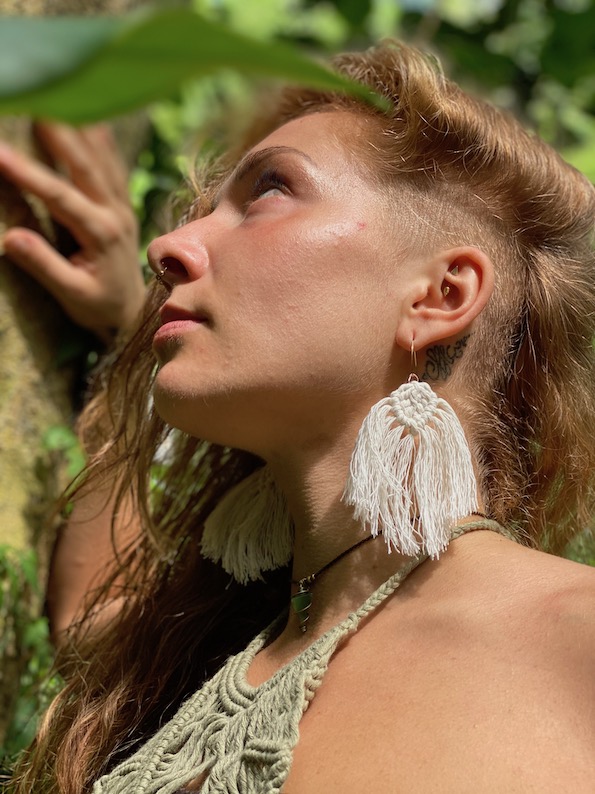 Ultra light macrame earrings with tassels - XILITLA
Ultra light macrame cotton earrings with long tassels. Create a unique jungle style with these stylish off white macrame earrings that are extremely light and comfortable to wear as they are made from the softest and lightest cotton that has been recycled from debris pieces during the production of other TAIKA products. This way nothing goes to waste.Complete any style with these flattering butterfly earrings or give as a gift. The metallic part is stainless steel coloured in gold. The metal is shaped as an almond and has a modern and stylish touch to it. These macrame earrings are washable and easy take care of. You can comb the tassels for revitalising them after use.MeasurementsLength: 7 cmWidth: 3 cmColourOff white